T H A I L A N D
NOTE: "HOME" takes you to our initial home page; "UP" will return you
to the Round The World 2015 site for more exploring.
After leaving Australia, we took a flight to Hong Kong for an overnight stay before proceeding to Bangkok, one of our favorite cities for relaxing and unwinding. This year's highlights (apart from R&R) include:
"Bike for Dad": To mark the event of His Majesty the King's 88th birthday on December 5, some 9,000 cyclists across Thailand and the world took to their bicycles for 29km bike ride. In Bangkok, some 85 roads were closed to accommodate the route. We were very lucky because the entire procession passed along Silom Road just outside the Holiday Inn Silom. We joined the throngs of well-wishers along the curb and we were very lucky to find space in the very front.
The procession was led by His Royal Highness Crown Prince Maha Vajiralongkorn. We had to kneel when he approached (as did everyone in the crowd) as a sign of respect. It was amazing how close he was to us! Wow!! The Prime Minister as well as 199 ambassadors and military attaches from 30 countries also took part in the procession. We were also very lucky to see His Royal Highness Crown Prince's daughters, HRH Princess Bajrakitiyabha and HRH Princess Sirivannavarl Nariatana. It was a great show of love and devotion to His Majesty the King! (FYI, no photographs of members of the Royal Family were allowed during the event.)

The route is mapped out throughout the city

A group of cyclists on Silom Road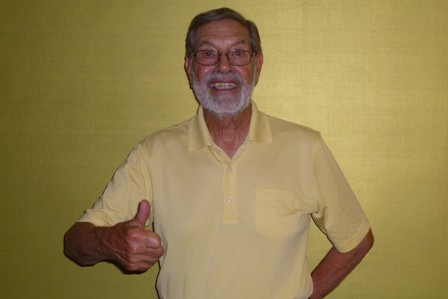 Ed sported his yellow shirt in support of the "Bike for Dad" campaign
Indian Temple: Maha Mariamman Temple or Wat Khaek (which means "Indian Temple" in Thai) is the main Tamil Hindu temple in Thailand. A group of Indians from Tamil Nadu migrated to Thailand. A leader of the group, Vaithi Padayatchi, built this temple in the late 1870's. The temple is very colorful and is carved with images of various gods and goddesses. Inside the temple complex are shrines dedicated to the worship of gods Shiva, Brahma and Vishnu. It's a beautiful spot to visit and the smell of the nearby flower vendors is intoxicating. Photography however is very difficult as the Temple sits directly on the always busy Silom Road.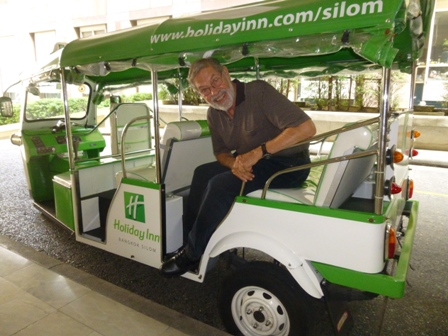 Our transport - the Holiday Inn tuk-tuk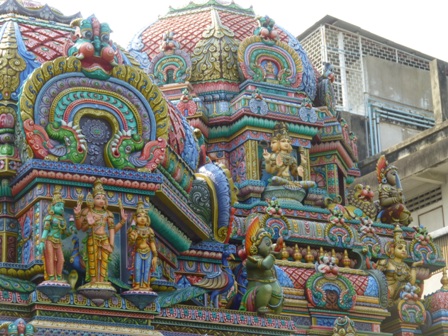 The beautiful tile work at the Temple

From this perspective, you can see how tall
these decorative spires rise

A closer view of one of the religious figures
After enjoying five nights in Bangkok, we flew to Shanghai (via Hong Kong). We enjoyed a night there. Then the next day we boarded the high-speed train to Suzhou to see our friend Yuayuan, and met her fiancé, Haohao.
IF YOU'RE INTERESTED, READ THE DAILY DIARY BELOW (TEXT ONLY) OR CONTINUE ON TO CHINA (just click on the link)
Wednesday, 9 December: This morning we caught the SkyBus back to the Melbourne Airport. From there we flew to Hong Kong where we arrived at 0:00PM. After clearing Customs & Immigration and collecting our luggage we took the hotel shuttle to reach the Marriott Sky City property so we could get a few hours sleep.
Thursday, 10 December: This morning we left the Marriott at 06:20 and were in the Cathay Pacific Lounge at 7:15AM. It was amazing to check-in and clear Immigration so quickly; absolutely great! Our 10:00AM flight was delayed until 11:30AM so we continued to enjoy the hospitality at the Lounge. When w arrived in Bangkok, we once again were able to quickly clear Customs & Immigration. After collecting our luggage, we took at taxi to the Holiday Inn Silom and arrived there at 2:00PM. We checked in at the Club Floor. We enjoyed seeing some familiar faces but several individuals we had come to know over our visits for many years had left for other opportunities. That being said, the new staff members were equally warm and cordial so they'll become our new contacts at the Club.
Friday, 11 December: Bangkok was literally shut down at 12:00PM in advance of the "Bike for Dad" celebration. We waited on street to see his Royal Highness Crown Prince Maha Vajiralongkorn and his two daughters. We were lucky enough to see his Highness as we sat on the roadside and he was no more than 30 feet away. Wow!
Saturday, 12 December: Today was spent in the area near the Holiday Inn Silom. We walked the nearby "walking street" (a pedway) and also shopped in a nearby neighborhood.
Sunday, 13 December: We didn't venture out of the hotel today. Instead we took some time to relax and enjoy the hotel's facilities.
Monday, 14 December: Mid-morning we took the hotel's "tuk tuk" – a newly introduced perk – to the Indian Temple. It's a beautiful Hindu temple that dates to the late 1870's. After enjoying the Temple, we walked back to hotel. En route, we stopped by Tops Grocery. It's always fun to compare grocery stores across nations. The balance of our day spent getting ready for the final leg of this journey to China.
Tuesday, 15 December: As usual, we left the Holiday Inn Silom before 6:00AM to avoid the notorious Bangkok traffic. We were able to relax at the airport before our flight to Hong Kong and subsequently Shanghai.