C H I N A
NOTE: "HOME" takes you to our initial home page; "UP" will return you
to the Round The World 2015 site for more exploring.
We spent very little time in Shanghai other than using it as an overnight stopping point before going to Suzhou to see our dear friend, Yuanyuan. It was also our first time to meet her boyfriend – and soon to be fiancé – Haohao.
Highlights of our time in Suzhou include:
Pingmen Gate: We and Yuanyuan traveled by bus to see Pingmen Gate. Pingmen Gate is very old and it was part of the original wall surrounding Suzhou. It's now part of the Pingmen Gate Scenic Area. We enjoyed walking the entire area as it included other buildings as well as a part. It was a great way to spend an afternoon.

Yuanyuan and Melinda in front of Pingmen Gate

The Gate leads to a wall with a decorative Pavilion

From the wall, you can see a river plus a decorative bridge

A photograph of all of us by a half moon bridge
in the Pingmen Gate Scenic Area

Yuanyuan and Haohao with us in the HI Jasmine lobby
by the Christmas Tree
Chongyuan Temple: Despite it being a cold and rainy day, we and Yuanyuan and Haohao decided to go outside of Suzhou to visit Chongyuan Temple. It was definitely worth it! Chongyuan Temple is a huge complex that is over 1,500 years old. There were multiple temple buildings and pagodas. The is one huge statute of Buddha – 33 meters tall – which was especially impressive.

Yuanyuan and Haohao begin our visit with an offering of incense

An entry gate into part of the Chongyuan complex

These decorative water spouts show the amount of rain coming down

Yuanyuan and Haohao in a doorway protected from the rain

Another beautiful building in the complex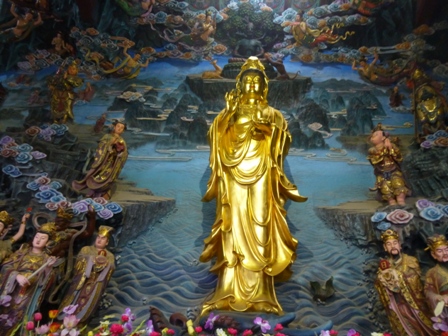 A beautiful statute surrounded by a beautiful fresco

This dedicated group of ladies are dancing in the Temple
complex despite the ongoing rain

This building houses the 33 meter Buddha

This is the face of Buddha; we had to walk up three
flights of stairs to see this section of the statute

The rain continued... Haohao took this snap of Yuanyuan and
us as we were leaving Chongyuan at the end of the day
[ T O P ]

IF YOU'RE INTERESTED, READ THE DAILY DIARY BELOW (TEXT ONLY)

Tuesday, 15 December: Today we flew from Bangkok to Hong Kong and subsequently into Shanghai. After clearing Immigrations & Customs, we caught the airport bus that drops us near the Holiday Inn Shanghai Downtown. We arrived in time to check-in and enjoy happy hour at the Executive Lounge. Aimee, who we've known for many years, became the most recent manager of the lounge – a nice promotion for her.
Wednesday, 16 December: We enjoyed a leisurely breakfast at Angel's Café. We always receive excellent service from Mr. Leon and his staff. Then, the chefs prepare delicious foods, especially noodle soup. Yum, yum!! Later we walked across to the Shanghai Railway Station to purchase a high-speed train ticket to Suzhou. Afterwards, we walked the nearby neighborhood and did some window shopping.
Thursday, 17 December: We enjoyed a leisurely day in Shanghai.
Friday, 18 December: After enjoying another delicious breakfast, we checked out of the hotel and told the staff goodbye. We then walked to the Shanghai Railway Station and took the train to Suzhou. Upon arrival in Suzhou, we took a taxi to the Holiday Inn Jasmine and checked-in. We then waited for Yuanyuan to arrive. After hugs & kisses, we had Yuanyuan check into her room. After she was done settling in, we met in the Executive Lounge to enjoy happy hour and dinner. We talked and talked (despite speaking to each other via telephone each month) to share what was going on in our lives – especially with Yuanyuan's boyfriend and fiancé, Haohao.
Saturday, 19 December: We all enjoyed a delicious breakfast. It was a bit overcast but we decided to take a morning outing before Haohao's expected arrival in the afternoon when he was finished with work. We took a local bus to the Pingmen Gate Scenic Area. It is a beautiful, historic part of Suzhou. We enjoyed seeing and photographing the gate as well as other buildings in the area. We also asked a local individual to take a photograph of the three of us. Afterwards, we took another bus back to the hotel. Later that day, Haohao arrived and settled into the hotel. Then, we spent the balance of the day at the Executive Lounge. Although Haohao doesn't speak much English, he understands quite a bit. If/when needed, Yuanyuan did some interpretation. We had a lovely afternoon and evening and once again we enjoyed the happy hour and dinner. Afterwards, it was time for us to go to bed and let Yuanyuan and Haohao enjoy some time together.
Sunday, 20 December: We all enjoyed a leisurely breakfast. Afterwards, we decided to go touring despite the rain and somewhat dreary day. While each of Yuanyuan and Haohao had an umbrella, we didn't. We checked with the concierge and all the umbrellas had already been taken, so we decided we would just head out anyway. Haohao and Yuanyuan suggested we visit a Chongyuan Temple. Since it's outside of town, Haohao arranged for a taxi via his cell phone. While we were still in town, Haohao had the driver pull over and Haohao jumped out of the car. When he returned, he had two umbrellas in hand. Wow, thanks Haohao!
When we arrived at Chongyuan Temple, it was raining harder so we each definitely needed an umbrella. We toured the large complex. Initially, we stopped at the first temple and Yuanyuan and Haohao each made an incense offering. We stopped in almost every open building – sometimes just as a break from the rain. The most impressive building contained a statute of Buddha that was 33 meters tall.
When we finished our touring in late afternoon, it was still raining. We waited briefly at a nearby bus stop but then Haohao decided to call a taxi. We all had a chance to dry off and warm up a bit. When we returned to the hotel, we decided to meet for our final happy hour (for this trip). We should not that while we enjoy a cocktail and/or wine, the beverage of choice for both of Yuanyuan and Haohao is juice. Then, it was time to call it a night due to early morning departures for each of Yuanyuan and Haohao.
Monday, 21 December: We enjoyed a quick breakfast together before it was time for Yuanyuan and Haohao to go to work. After they left, we gathered up our things and took a taxi to the railway station. From there, we took the train to Shanghai. Unfortunately, we exited from the North Exit rather than the South Exit. The result: we had to lug our baggage through the subway (with no escalator) to reach the other side of the square which surrounds Shanghai Railway Station. Another 30 minutes later, we were finally in familiar territory. We went to the bus stop for the bus to Pudong Airport. In about 45 minutes, we arrived at Pudong. We then spent time in the lounge before taking our American Airlines flight to Dallas. We landed some 13.5 hours later and went through Immigration & Customs. Wow, talk about a full day – from Suzhou, China to Dallas, Texas! We called our hotel and requested a pick-up so we could get some rest before returning to Albuquerque the following day.