NOTE: "HOME" takes you to our initial home page; "UP" will return you
to the Africa 2015 site for more exploring.
We returned again to Africa for brief visits in Cape Town and Johannesburg before going on safari in Botswana. In Cape Town, we once again enjoyed spending time at the Waterfront. The Waterfront is a busy, bustling area that always warrants a visit when one is in the city. This year the Waterfront was hosting a group of yachts participating in a "Round the World" race. We stopped by the area where the yachts were moored and they were beautiful. Not our way to go "Round the World" but we admire the individuals who were willing to do so.

The Clock Tower, completed in 1882, served
as the first Port Captain's office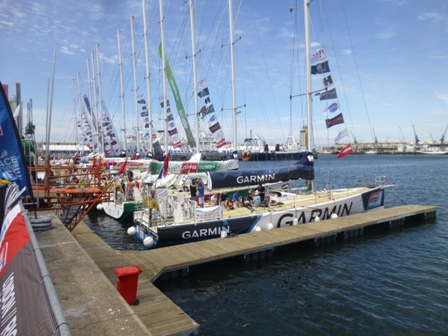 A row of yachts competing in the regatta

From this perspective, you can see the elusive Table
Mountain peaking out from the clouds that shroud it

After enjoying Cape Town, we flew to Johannesburg. We had the pleasure of going to the home of Ian, an individual we met on safari last year at AndBeyond's Vlei Lodge at Phinda Private Game Reserve. Ian came by the hotel and picked us up and we drove to his home for cocktails and appetizers; a great way to unwind after our flight. Ian then prepared a lovely and delicious dinner. Wow, talk about luxury treatment. It was a great evening and we hope to someday repay his wonderful hospitality!
Our next day was a quiet one and then we flew to Maun, Botswana to begin a safari adventure.
After arriving in Maun, we we flew a Mack Air charter to an airstrip near AndBeyond's Okavango Sandibe Lodge. Upon arrival we were met and transferred to the lodge. We spent five nights at Sandibe enjoying great game viewing and excellent hospitality. We were then transferred back to the airstrip for a short charter flight to AndBeyond's Nxabega Okavango Tented Camp. Here we again enjoyed great game viewing and excellent hospitality. Although both properties are located in the Okavango Delta area, their habitats are quite different making each a unique experience.
READ THE DAILY DIARY BELOW (NO ADDITIONAL PHOTO'S - JUST TEXT) OR
CLICK ON ONE OF THE FOLLOWING LINKS TO SEE HIGHLIGHTS OF OUR TIME AT SANDIBE AND/ OR NXABEGA...

DETAILED DIARY:


Thursday, 29 October: This year's visit to Africa began by spending a few nights in Cape Town. The weather was nice and cool. After arrival at our apartment, we took a 50ZAR cab ride to Garden City, a huge mall that included a Pick-N-Pay where we purchased groceries for upcoming dinners. We returned after exploring the mall and shopping and enjoyed a leisurely dinner before bed.

Friday, 30 October: Cape Town's Waterfront is an area that you can visit again and again – and we continue to do so. We took the complimentary shuttle from the hotel and enjoyed walking the area until late afternoon. We took photographs of the iconic three-storied Red Clock Tower that was completed in 1882. Then we photographed the busy, busy harbor. It's always bustling. After taking a break indoors to enjoy the shopping (and also visit a new Pick-N-Pay), we learned that a yacht race had stopped in Cape Town to replenish supplies. We went to a different area in the harbor to view the yachts sailing under the banner, "40,000 miles, 11 months, 6 ocean crossings, 12 yachts, One Race."

Saturday, 31 October: We spent this day relaxing at our apartment. It was a welcome day of rest. Interestingly, there were no Halloween festivities in our area of town so the evening proved to be very quiet too.

Sunday, 1 November: We woke up to a pouring rain in Cape Town. We tried to wait it out but ultimately ended up dragging our baggage in the rain to the hotel lobby. We had breakfast and then caught a shuttle back to the airport. Despite getting a bit damp, our decision not to wait out the rain was a good as it continued to pour until one hour before our 2:00PM departure. We arrived in Johannesburg at 4:00PM and walked over to The InterContinental, our home for two nights.

At 5:25PM, our friend, Ian came by the hotel and picked us up. We drove to his home where we all enjoyed a gin & tonic along with some delicious appetizers. We reminisced about having "G&T's" in the bush together last December. Then, with us banned from the kitchen, Ian prepared a lovely and delicious dinner featuring Cape Salmon and fresh veggies. It was absolutely yummy! We left Ian's place at about 10:30PM – a very late evening for him due to tomorrow's work day – after truly enjoying his hospitality. Ian arranged for the ride via Uber and even tracked our progress to ensure we returned back to The InterContinental for the evening. Talk about a great guy; thanks Ian!

Monday, 2 November: Most of our day was spent relaxing at The InterContinental. We did walk back to the airport to see where tomorrow's Air Botswana flight would check-in. We also took the time to locate the Cathay Pacific counters for our subsequent travel post-Botswana to Hong Kong. Once we had all the information we needed, we stopped by the Woolie's grocery in the airport to pick up some snacks and then went back to our hotel for the balance of the day.