NXABEGA OKAVANGO TENTED CAMP
NOTE: "HOME" takes you to our initial home page; "UP" will return you
to the Africa 2015 site for more exploring
After a 15 minute plane ride from the airstrip nearby Sandibe, we landed at an airstrip near Nxabega Tented Camp. We were drive to the Camp and upon arrival, we were greeted by staff members who were singing a traditional song (yes, all staff are very talented and can sing). The song was accompanied by dancing and some great whistling. It was truly a warm welcoming! We were given an orientation about Nxabega in the main lodge by Moses, one of the managers. We were then shown to our luxury tent sitting just in front of a pool occupied by a lone Hippo.

The schedule at Nxabega is similar to that of other AndBeyond lodges. The focus is on two game drives – one in the morning and the other in late afternoon. Coffee is available in the main lodge at 5:00AM along with a continental breakfast. The safari drives begin at 6:00AM-6:30AM (depending on guest preferences. The drive lasts for several hours and there's a morning break with coffee and tea and a light snack served at a lovely location.

After the morning drive, a brunch is served at the time of your choosing. It consists of a variety of delicious salads and sometimes a cold meat tray as well all served table-side by your butler (Kedi, a lovely young woman was our butler). At 4:00PM, it's tea time and the afternoon game drive begins at 4:30PM. During the drive, a lovely spot is selected for cocktails or "sundowners".

On the way home, there's a search for nightlife using a spotlight to illuminate the "glowing eyes." Upon returning to the lodge, a lovely dinner is served and then guests retire to their individual tented abodes. Since Nxabega isn't an enclosed camp and animals can roam freely, once it is dark a security guard must accompany anyone coming to or leaving the main lodge.
Gaming at Nxabega was excellent and we also got to do some fun things like go fishing and take multiple boat rides! Below are some of our favorite photographs.

A Banded Mongoose - difficult to photograph
because they usually run away very, very quickly

This male Lion is approximately 8 years old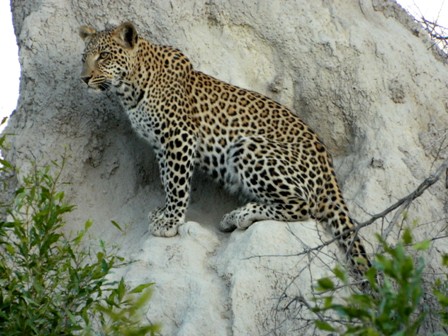 This male Leopard (about 18 months old) is
definitely a lot smaller than the male Lion above

Wild Dogs enjoying an Impala kill

This female Lion (who turned out to be pregnant)
paused to check us out

We encountered this Elephant eating water lilies
while we were out on a motor boat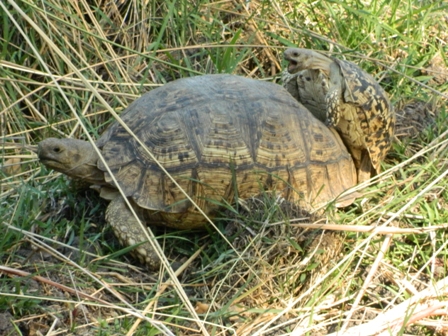 A huge Leopard Tortoise with a friend
(not quite sure what's going on....)

A majestic Fish Eagle - beautiful!

A beautiful male Leopard on the prowl - always a treat!

A Southern Ground Horn Bill - a real treat to
see as this species is endangered

Our amazing team - Akofang ("AK"), our guide (left)
and Richard, our tracker (right) - We're getting ready to
enjoy "sundowners" on the river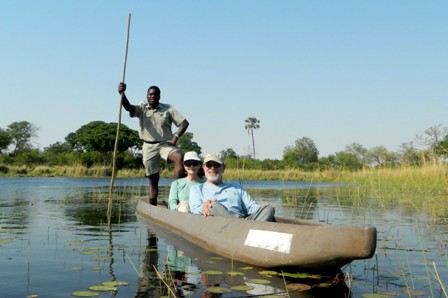 A different mode of water transportation - a Mokoro - a traditional ,
canoe-like boat which is moved via poling (Master was our poler)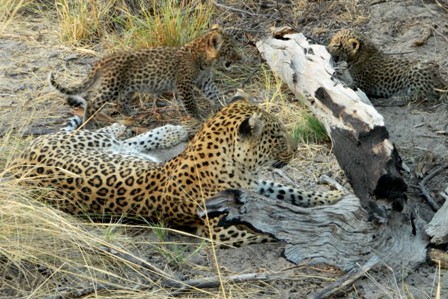 A beautiful Leopard with two cubs

This cub crawled up a nearby tree; who can resist that face?!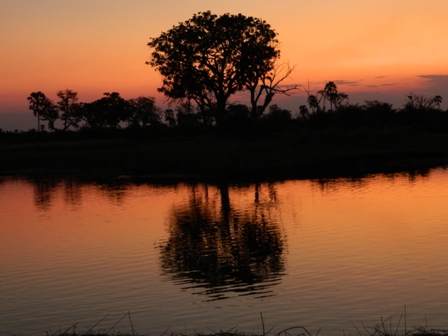 A beautiful sunset in the Delta

A lone Buffalo - always a dangerous creature

Two female Lions finding some shade in the tall grasses

A beautiful Lilac Breasted Roller, the national bird of Botswana

A Red Lechwe wearing some weeds on its head after foraging

It's time to sharpen those claws!

The first baby Impala of the season (it arrived as the rains did)
READ THE DAILY DIARY BELOW (YOU'LL DEFINITELY FIND SOME EXTRA SNAPS) OR CONTINUE ON TO AUSTRALIA (just click on the link)
Sunday, 8 November: We arrived at the Nxabega "International" Airport after a short flight from the strip near Sandibe. It was a quick drive to the main Nxabega camp. Upon arrival, we were greeted by staff members who were singing and dancing to traditional music. There were also some individuals who had great whistles and animal calls; neat! After a brief orientation, we were shown to our lovely tented camp opposite a small water hole with a lone Hippo.

The single engine Cessna which flew
us from Sandibe to Nxabega Tented Camp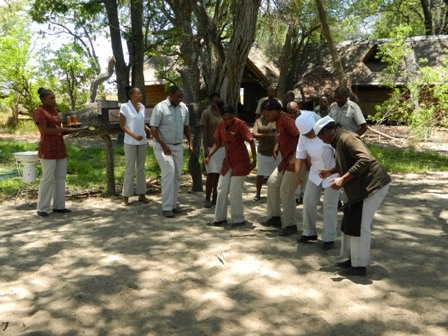 Staff members welcome us with a lovely singing & dancing
At 4:00PM we returned to the lodge to meet our guide, AK. He in turn introduced to our tracker, Richard. After everyone enjoyed a brief snack, we were off for our first game drive at Nxabega. Our first sighting was a large male Lion who AK said was about eight years old. He was truly magnificent! We then found a male Leopard who was about 18 months old. While we were photographing him, we heard the calls of another Leopard. It turned out to be the fellow's mother who ultimately joined him. AK speculated that she had hidden a kill for them to share. As the light began to fade we stopped to enjoy a cocktail in a lovely spot. It was a great start to our time at Nxabega.

The beautiful male Lion with a huge mane

When he decided to leave, we followed and got incredibly close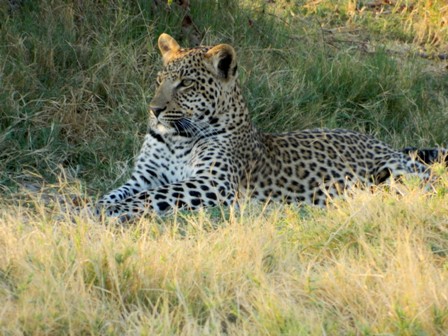 A beautiful male Leopard, ~18 months old

The Leopard goes on the move after hearing the other Leopard's call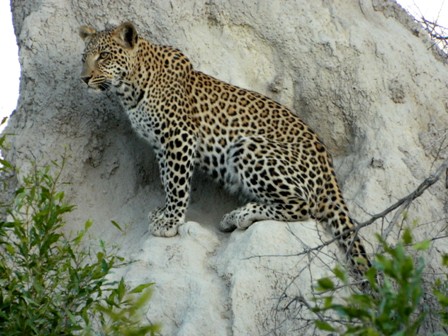 He climbs onto a termite mound for a better view

This young male reunites with his mother

After traveling a bit, they both lay down - Mom is in the foreground
Monday, 9 November: After enjoying a quick cup of coffee, we began our drive. Our first sighting was a female Lion who was pregnant. AK pointed out how easy it was to tell she was pregnant given her swollen belly. We next came across a small group of Elephants. In between, we once again enjoyed great birding. We saw a large Grey Heron and a Fish Eagle. We then returned to see a pack of six Wild Dog devour an Impala. Another safari vehicle saw the Impala run into the water while the Wild Dogs waited by the side of the pond. It took about 1.5 hours before the Impala made an unsuccessful dash for it. AK wisely said that we could continue to other viewings and indeed we returned just as the Wild Dogs were eating the Impala. The pack was composed of two males, a female who AK believed will breed in March plus three pups. The pack had been larger but members of it had been killed by Lions.

The female Lion is walking towards us

Now we can see her swollen tummy from this side view

A lovely Grey Heron

A mother & child - Mom's about to take a dust bath

A beautiful Fish Eagle

Wild Dogs enjoying the Impala kill

You can hear bones breaking and flesh being torn off the bone

The Alpha male and female are sharing this Impala leg

You can see the blood on this guys face and front legs
On our afternoon game drive, we did something a bit different and very pleasant. We drove about 30 minutes to reach a landing spot for motor boats. We embarked on a motor boat and then used it to cruise throughout the channels. It was nice and cool, especially since the summer temperatures had gotten very hot. We saw three different Elephants feeding on water lilies – a favorite food of theirs we learned. We also saw lots of Hippo with one pair attempting to mate. There was an African Darter (bird) drying its feathers after fishing in the channel. We stopped for a lovely happy hour on the river before heading back to camp. On the night drive home, we saw Spring Hare, four Hippo out of the water and a Wild Cat. Unfortunately light conditions didn't enable us to photograph the creatures on the night drive but it still was a treat. Upon returning to the Lodge, we enjoyed a lovely dinner. Then, it was time to unwind and get some sleep.

The bridge we used to get to the boat launch

A crocodile in the water

AK & Richard getting the boat ready to launch

The first Elephant we found eating water lilies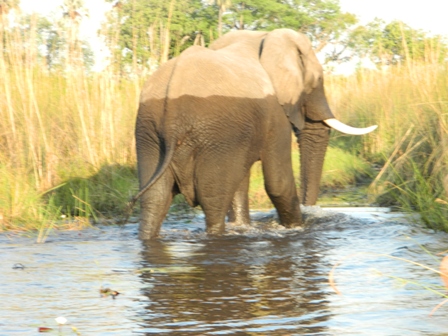 As the Elephant departs, you can see how
deep it went into the water to cool off and find water lilies

A few Hippo in the water

The male Hippo has mounted the female (you can only see
her ears on the left) as they attempt to mate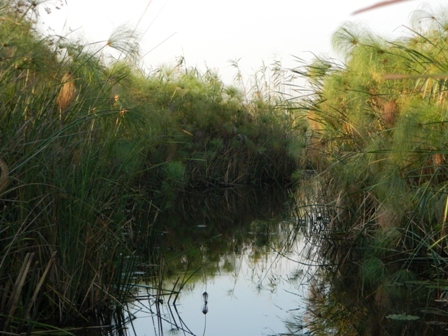 The narrow channels we traveled through this part of the Delta

The second Elephant we encountered on our ride

A beautiful Night Lily

This African Darter is drying out its wings before going fishing again

The third Elephant we met on the water

It decides to start back into the water to cool off and eat

AK, our Ranger, and Richard, our Tracker,
prepare a lovely happy hour feast

A beautiful sunset - and finally it's cool!
Tuesday, 10 November: We spent our morning game drive following a female Leopard in hopes that she would lead us to her den. She took us lots of places but she never did let us know where the cubs were hidden. Afterwards we drove to one of the many river channels in the area to have a coffee break. There were many active Hippo in the water but they didn't venture out of the pond. After our coffee break, AK provided a detailed overview of Botswana and more specifically an overview of the Okavango Delta – its shape, water source (Angola) and how the area is protected by the local population – using a very detailed map. Afterwards we returned to the lodge for an early afternoon brunch followed by time sitting under the breeze of our fan attempting to stay cool.

We begin to follow the female Leopard

Interestingly, she goes part-way up this tree

Now, she heads back down

She continues to move through the area but no sign of her cubs
On our afternoon drive, we first found some lazy Lions sleeping in the bush. It was definitely a good thing for them to do given the heat. Then, AK's persistence paid off – he located the female Leopard with her two cubs. The female was stunning but the cubs stole the show. They were quite active and so beautiful. Their eyes appeared to be pale blue and they weren't put off by the safari vehicle but instead were very curious. It was a great sighting and we later celebrated over a late afternoon cocktail.

This Lion (one of three) is trying to dose during the afternoon heat

Not sure if it's a bad dream or just being cranky due to the heat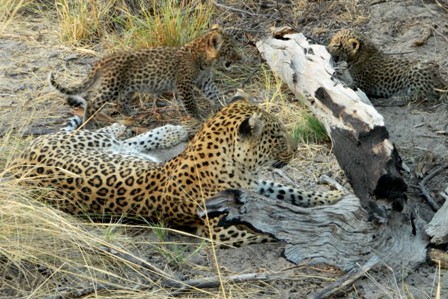 Persistence pays off... the Leopard and her two cubs!

The cubs are so tiny and so, so cute!

This cub is enjoying a big stretch

This cub is so adorable!

Time for some playing and exploring together

This cub seems to be saying "The Sky is the limit" as
it investigates this small tree branch. Amazing!
Wednesday, 11 November: Our morning drive began by seeing/hearing a pair of male Impala fighting. Soon the females will drop their current calves and then the mating season begins. These two guys were definitely getting ready for the event. Next we were into lots of birds. We saw a Cormorant as well as pair of juvenile Fish Eagle. Then, we were very lucky to see a pair of Southern Ground Horn Bill – an endangered species that breed only six times in their life cycle or once every 10 years. These Horn Bill typically have only 1-2 eggs so you can see why the birds are threatened.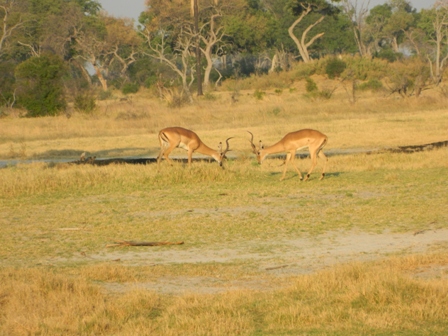 These Impala are about to do battle

A Cormorant

Two Juvenile Fish Eagle

One of the two Southern Ground Horn Bill

Its mate is on the move; how great to see these
endangered species!
Afterwards we drove to the river where we took a tour on a Mokoro – a traditional dug-out type of canoe (those used by the camp were modern, replicas of the traditional Mokoro). Master, the individual who propelled our Mokoro using a long wooden pole, pointed out several creatures we never would seen on our own like a Long Reed Frog & Angolan Painted Reed Frog. The ride was very pleasant as the Mokoro sits low in the water and glides silently. It was quite beautiful but very, very hot by the time we finished our ride. We returned back to the Lodge and enjoyed another delicious lunch served by Kedi. Then we retired to our tent and lay on the bed with wet towels over our bodies in an attempt to keep cool… and it worked!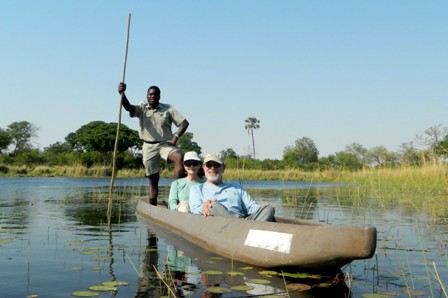 Us with Master in the traditional Mokoro

We're following another Mokoro in this tiny channel

Our view from the Mokoro - both close up and trees in the distance

This tiny creature is a Long Reed Frog

This Water Lily has a bee inside

This is an Angolan Painted Reed Frog
For the afternoon, we choose not to go gaming but instead to go fishing. Richard and Master were our hosts and we had lots of fun. We caught tons of small pike (which the guys kept) and we also caught a lot of silver catfish (but those were not kept). Unfortunately, the fishing equipment was pretty old and they guys only had a few lures left. The next time we come to Nxabega, we're going to bring some quality equipment for the team there so more individuals can enjoy the thrill of catching fresh fish.

Master has landed his first fish

Ed's got another one on the line!

Lindy with a small pike

This beautiful fishing spot!

This is a flock of the endangered Wattle Cranes - tough
to photograph but wonderful to see!

Master (left) and Richard (right) setting out our lovely happy hour treat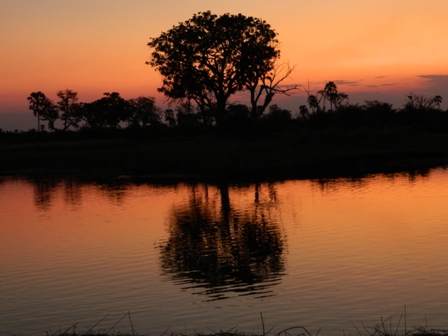 The gorgeous sunset!
As we returned back to Nxabega, Richard said some "bushmen" had arrived near the lodge and we should go visit them as they were great dancers. When we got near the spot, we realized he had fooled us; it was a braii (barbeque) set up by the camp staff. We and the other guests at Nxabega enjoyed a great barbeque feast along with lots of singing and dancing performed by staff members.
Thursday, 12 November: After enjoying an early morning coffee, we joined AK and Richard to begin our morning drive. We and two other safari vehicles went in search of a Lion pride. And, after doing a great deal of tracking and re-tracking, success!! We found a group with two adult females – a mother and her daughter. The other Lion – the best hunter – was not with them. AK speculated she was somewhere in search of a meal for everyone. After enjoying photographing these beautiful creatures, we went in search of the Wild Dog pack. They got the better hand as they eluded us this morning.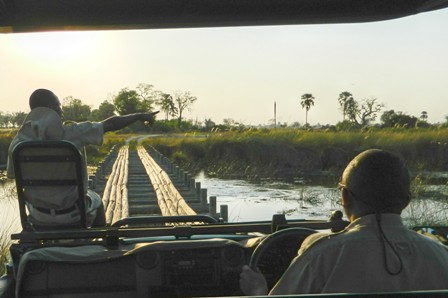 Richard (on the bonnet) and AK (driving) as we cross a long bridge

A lone Buffalo - pretty fierce looking

We finally found the Lions! You can see how easily
they can hide in the tall grasses

A closer look at one of those beautiful faces

One of these female Lions gets up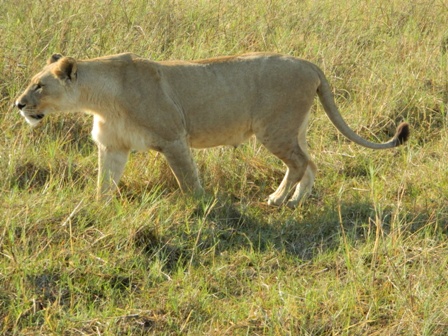 Now the group is on the move

Time to sharpen those front claws

Our wonderful team - Akofang ("AK"), our ranger (left)
and Richard, our tracker (right)
On this our final afternoon at Nxabega, we decided to relax on the river – cruising and fishing from the motor boat. We had to take turns fishing as there was only one lure left. Yikes! New equipment was due to arrive at the lodge on Friday so we hope it does. We all had good luck catching bream plus some catfish which we did keep for another camp member. We enjoyed a great happy hour in this beautiful setting.

A gorgeous Lilac Breasted Roller, the
national bird of Botswana

Ed taking a turn with our one fishing rod

RIchard making a reed anchor to hold the boat in place

AK holding the catfish Richard caught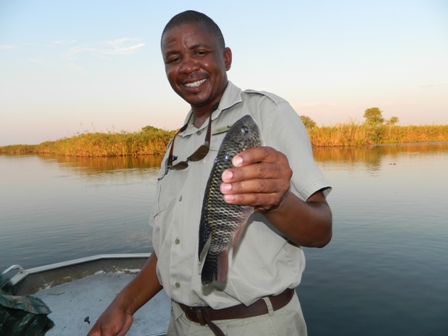 AK with a bream; he says it's a delicious fish
On our return ride back to camp, AK asked if we had locked our tent door. We told him he didn't have any lock on our tent. AK then told us that baboons were in camp so he would take us directly to our tent via the vehicle to see if they had created any havoc. When we arrived, surprise! AK had definitely fooled us! When he walked us to the tent, we discovered that a private, farewell dinner had been arranged. A bar – complete with gin & tonic – was on the front deck. A table with a linen cloth was fully-set. There was a bottle of bubbly on ice and on the bar there also a bottle of the red wine we had been enjoying each evening. Inside, our bed had been decorated with a lovely message written out in leaves. Talk about being spoiled!! It was a wonderful send-off dinner. Kedi, our butler, and one of the Camp's chefs, brought our dinner from the kitchen; a very, very wonderful thing for them to do! We sat under the stars, first enjoying our usual gin & tonic. Then we toasted our week with the sparkling wine while enjoying a delicious dinner. Thanks to everyone who made this possible!!

Kedi, our Butler, who made this wonderful surprise possible!

Our bed with it's lovely message written in leaves

Our outdoor deck set for dinner

The bar

Champagne (and water) on ice

"Salud!" to this great treat and to a
wonderful adventure at Nxabega
Friday, 13 November: On this our last safari game ride for this year, AK and Richard took us exploring. In doing so, we enjoyed lots of firsts – including seeing the first Impala with her new born calf! We also came across Lechwe and Buffalo and then felt the first rain drops which were long overdue in the area. We'll be looking forward to returning to Botswana soon!

The first baby Impala of the season

This Red Lechwe has obviously been foraging
given the weeds all over its head

Thankfully it's not too deep

A small herd of Buffalo

A closer look at one of these huge guys