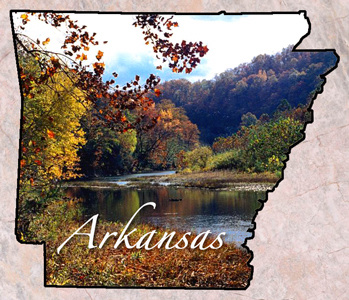 FLY FISHING WITH FORREST 2014
NOTE: "HOME" takes you to our initial home page;
"UP" will return you to the NORTH AMERICA/CARIBBEAN site for more exploring.
This was our 5th year to return to Arkansas to fish with Forrest Smith. He's an excellent guide and a great coach. Plus, he's a lot of fun to fish with and he runs a great operation!
As usual, we had an excellent experience! We floated the White River for three days and the Norfork River for two days. We did a couple of different stretches on the White River based on water flow and conditions. We encountered some light showers but typically the weather was very nice. As usual, we were able to catch & release many rainbows. We also enjoyed a multi-species experience in that we caught cutthroat trout, cut-bows and brown trout. Speaking of browns, we caught several of these large beauties, including a 21.5 inch trout. Wow!
Our experience on the Norfork River was equally good. One day, however, it was absolutely cold and miserable. We quit fishing shortly after a late lunch and when we returned to Mountain Home, we discovered it was only 42 degrees. Burr! But perseverance did pay off because Ed successfully landed a "football-size" brown trout that was 20 inches in length but weighed five pounds. A great catch! Our second day of fishing was warm & sunny (a great change) and while we didn't land any more monster browns, we did each land a nice bow – 18 inches for Ed and 19 inches for Lindy. Again, great fishing!
Below are some shots of a few of the many trout that we enjoyed catching & releasing. There are also some shots of the setting, our gourmet lunches, etc. We hope you enjoy them as much as we do!
We'll be looking to trip number six in May 2015 (we're hoping that Forrest doesn't commence his mechanical engineering full-time position before we have yet another opportunity to spend time on the water with him!)!!
THE WHITE RIVER EXPERIENCE
Click on the image to display a larger photo. Once
displayed, click on the BACK button (first button on the
left of your browser) to return to this page.
Bull Shoals Dam
Lindy beside Forrest's drift boat
The beautiful White RIver
Forrest holding a small cutthroat trout
Lindy catches a 17 inch brown trout
Forrest his holding Ed's cut-bow;
look at the great coloring!
A Great Blue Heron fishing too!
The White River with morning fog
A great early morning start -
a 17 inch brown trout
Forrest bringing all the
fixings to the shore for another
gourmet lunch
A pre-lunch shot of our
riverside dining in a gorgeous setting
Look at this beautiful brown trout!
Lindy gets into the action too
with a 21.5 inch brown trout
THE NORFORK RIVER EXPERIENCE
Click on the image to display a larger photo. Once
displayed, click on the BACK button (first button on the
left of your browser) to return to this page.
The dam on Norfork River
which creates Norfork Lake
A nice trout caught in the rain
(you know it must be raining hard
& be cold for Forrest to have a hood on)
An amazing catch! This 20 inch brown
trout is so fat (~5 lbs) that it looks
like a huge football
Lindy by the chicken on the BBQ
hoping to warm up a bit
We enjoyed fine river-side
dining despite the rain
What a difference in the weather only
two days later! Forrest is holding
Lindy's 19 inch rainbow trout
This Great Blue Heron is doing
some fishing too
Another beautiful 18 inch
rainbow on the Norfork River
If you're interested in exploring our other adventures in Arkansas with Forrest,
just click on a link below to go to that year's trip.
[ T O P ]