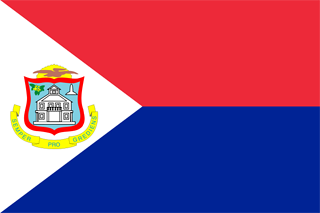 NOTE: "HOME" takes you to our initial home page; "UP" will return you
to the NORTH AMERICA/HAWAII/CARIBBEAN site for more exploring.
We spent four nights on the lovely island of Sint Maarten (on the Dutch side) to celebrate our 35th wedding anniversary. We stayed at the Sonesta Great Bay Resort in a lovely and very large ocean-view suite. The manager, Karl Bourne, and his staff treated us royally!
We arrived at St. Maarten at about 9:30PM on Thursday, 12 May, after enjoying three first class flights (Albuquerque-DFW/DFW-Miami/Miami-St.Maarten). After clearing Customs & Immigration, we were met by our transfer agent. Upon arrival at the Sonesta, we were greeted with cold champagne and refreshing washcloths – always a great way to start! We settled into our room quickly and then went for a snack and a glass of wine while listening to live music before calling it an evening.
On 13 May (Happy Anniversary!!!) we enjoyed a very leisurely day. We had a late buffet breakfast at the open air Bay View Restaurant near the pool. Afterwards we spent time wandering along the beach as well as exploring the property. In the early afternoon, we enjoyed fresh pizza at the Pizzeria Capri. Later we received an invitation to attend a weekly Manager's Reception held in the Living Room Bar hosted by the property manager, Mr. Karl Bourne. Then, to our surprise, an ice-cold bottle of champagne and chocolate-covered strawberries were delivered to our room thanks to Cleopatra Blair (Food & Beverage Manager) and her team. It was such a wonderful gesture!
At 6:30PM, we went to the Manager's Reception. It was a friendly get-together hosted by Karl Bourne, Dee Dee (a Manager) and other staff members. Invitees were those celebrating special occasions. We thought 35 years was a long-time marriage. However, we were joined by couples celebrating their 40th, 50th and 60th wedding anniversaries; wow! We also had a couple celebrating the sixth day of their wedding. We enjoyed ourselves and some of the entertainment staff had us playing a quiz for prizes. It turned out that everyone was a winner as each couple was given a liter bottle of Rum!
After our happy hour, we enjoyed an excellent dinner at Il Pescatore Restaurant. We had been given two bottles of wine on our DFW-Miami flight (thanks again Bonnie & team!). So, we brought a bottle of fine French wine with us to dinner (absolutely no problem in doing so). We had a great meal of delicious fresh fish (Mahi Mahi and Ahi Tuna). After dinner we stopped by one of the property bars to pick up a glass of champagne to savor with our chocolate-covered strawberries.
On Saturday, 14 May, we woke up early and saw that a Carnival Cruise ship had docked in nearby Phillipsburg overnight. So we got dressed quickly, grabbed a cup of coffee-to-go and then walked into Phillipsburg. It was only about a ten minute walk. Phillipsburg is a lovely, quaint town and thankfully the cruise ship had not offloaded any passengers prior to our arrival. We spent an hour leisurely strolling the town – especially Front Street – and then on other smaller streets. We returned back to the Sonesta by walking along the beach. It was very, very nice. Afterwards, it was time for breakfast.
In the early afternoon, we again enjoyed great salad and pizza at Pizzeria Capri. Late in the afternoon, a storm came through with showers – sometimes light and other times very strong. In early evening, we were once again at the bar enjoying champagne. The skies cleared a bit so we decided to enjoy an outdoor dinner at Waters Edge Restaurant. We once again took our own bottle of wine, a Cabernet Sauvignon from Argentina. Initially it was so lovely but then the rains returned so we had to finish dinner quickly and rush indoors. Despite being a bit wet, we still enjoyed a glass of champagne before retiring for the evening.
Sunday, 15 May, was another leisurely day. We once again enjoyed the buffet breakfast. On an aside, there's always a Mimosa station just outside the restaurant. Today there was also a "make your own" Bloody Mary station set up at the restaurant's bar. Another nice touch! The day was really comfortable (as all had been) in the low 80's with a nice breeze. After breakfast we relaxed by one of the two pools on the property. As it got hotter in the early afternoon, we once again headed to Pizzeria Capri. Afterwards, we had the reality-check of starting to pack for our return trip tomorrow.
Early evening we enjoyed a gin & tonic in our room. When we arrived at the Sonesta on Thursday night, there were three liters of alcohol on our side table – rum, gin & vodka – as well as a mini-bar stocked with beer and sodas. There wasn't any tonic in the mini-frig but a quick trip to the Front Desk had us stocked up on that necessary ingredient. Also, we picked up lime at one of the bars so it was nice to have a cocktail out on our balcony overlooking the beach and Grand Bay.
Afterwards we once again had a glass of champagne before dinner. Then, we decided to enjoy our final dinner at Il Pescatore. It was absolutely delicious – even better than our first dinner there. Ed loved the cioppino as well as some freshly grilled red snapper. As it was now part of our evening routine, we once again finished the evening with a cold glass of bubbly.
On Monday, 16 May, we enjoyed another leisurely, relaxing buffet breakfast. Afterwards, we finished packing and then checked out of the room at 11:00AM. However, our pre-arranged return transfer to the airport was not until 1:40PM so we were still able to enjoy the resort until that time. We again returned to Pizzeria Capri shortly after 12:00PM. After enjoying a final lunch there, we said goodbye to Shondel, the server at Capri throughout our stay. Afterwards it was time to collect our luggage and wait for our return transfer.
The ride back to the airport was actually quite fun in that we were able to see what winding, mountainous roads we had traveled when we arrived late in the evening on Thursday. Once at the airport, we checked in quickly and awaited our 4:30PM departure to Charlotte. We then caught a 10:10PM flight into Dallas. The flight to DFW was late so we didn't arrive there until well past Midnight. Thankfully, the shuttle for our overnight stay at the Holiday Inn arrived quickly and we were able to get a few hours of sleep before returning to DFW on the morning of Tuesday, 16 May to fly back to Albuquerque to finish this wonderful experience.
Below are some photographs from the Sonesta Great Bay Resort, Phillipsburg and our anniversary celebrations!
THE RESORT

Sonesta Great Bay Resort

Looking over the pools and beach area and
beyond to nearby Phillipsburg

Our lovely room

The view from our balcony
PHILLIPSBURG

The quaint streets of Phillipsburg

Looking down a small alleyway

A typical home with a tin roof

This Methodist Church was founded in 1851

The Courthouse

A colorful shopping area off Front Street

A view of the Great Bay Sonesta from Phillipsburg
OUR CELEBRATIONS

Champagne, chocolate-covered strawberries & anniversary cards!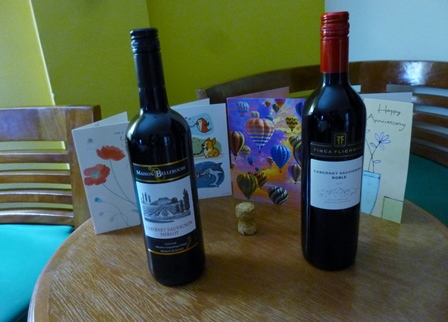 The wines we received from American Airlines
along with our opened anniversary cards

Enjoying the Manager's Reception on May 13 - our anniversary!

Our anniversary dinner at Il Pescatore

Another anniversary surprise accompanied
by some wonderful singing

Our continuing celebration on May 14 - A
glass of champagne at the Lobby Bar

Dinner on May 14 at the Waters Edge Restaurant
with the lights of Phillipsburg in the background

Our final dinner on May 17 at Il Pescatore

Ed holding the anniversary surprise - a
14 kt. gold diamond ring

The ring on Lindy's finger - where it will always remain!