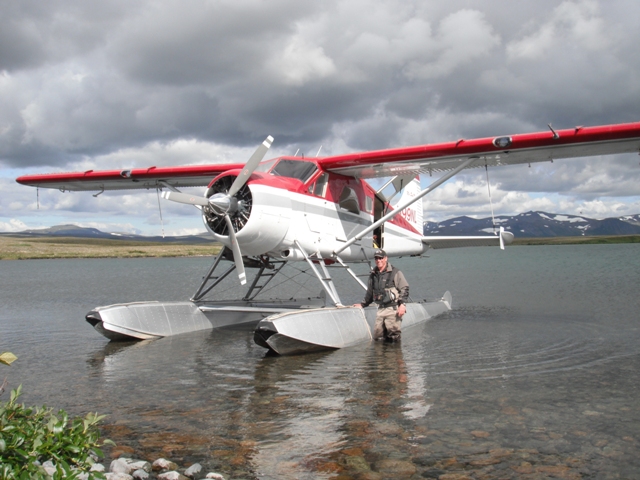 NO SEE UM LODGE '11
(John Holman, Owner/Pilot/Guide/Life-Long Alaskan)

NOTE: "HOME" takes you to our initial home page;
"UP" will return you to the NORTH AMERICA site for more exploring.
We love fishing at No See Um Lodge! This year we enjoyed our eighth consecutive visit at this wonderful family-owned lodge. John & Kari Holman and their entire staff (more like their extended family), do a tremendous job.

Chef Gerald has been at the lodge for many years now and does an excellent job. First, he's a short-order cook in the morning – making anything you request for breakfast – and then be prepares a multicourse gourmet meal for dinner. Prior to dinner, he brings appetizers to the bar area for individuals to enjoy as they savor the day. When we're out on the river, we really enjoy the delicious home-made soup Gerald prepares and sends along in a thermos to keep us warm and/or compliment our lunch.

Katrina too has been with No See Um for many years. She assists in the kitchen and also takes breakfast orders and delivers meals with a never-ending smile. This year, Melissa joined the crew. Her forte is making delicious breads and sweets. Both ladies also coordinate the housekeeping chores.

Mark, the dock hand and general "go to" guy has been at the lodge for several years. He helps get the planes and/or boats fueled in the mornings and he's always at the dock to meet us when we return. While we're out fishing, his days are filled with numerous activities which help the lodge run smoothly. Also, on a cold afternoon, he'll make sure there's a blazing fire in the cabins.

Now, to our pilots and guides…. Simply the best! John and Chris are amazing pilots who always think safety first. Yet, they are creative in getting us into great fishing waters, often shuttling anglers in small groups so as to be able to use smaller ponds and/or streams for landing spots. In addition to being pilots, John and Chris are excellent guides. They both know everything there is to know about the waters we fish and how to catch the fish that frequent them. These guys are complimented by an equally knowledgeable group of guides – Parker (or Jeff), Caleb, Dave and Craig. At No See Um, you never have to worry about who will be your guide for a day of fishing since they are all great! No See Um in one of those unique lodges that maintains long-term guides who are great sportsman and just plain fun to fish with.

Okay, now it's time to read more to learn about our 2011 adventure!
Monday, 25 July: Today was spent traveling to No See Um Lodge. After arriving in Anchorage the day before, we had a leisurely morning before heading back to the airport to catch a PenAir flight to King Salmon. Before boarding, we met Dominique, best friend of Sydney Holman, who was making her first visit to the lodge. After arriving in King Salmon, we were met by John who then flew us to No See Um in one of the lodge's Beaver float planes.
Tuesday, 26 July: Our first day of fishing this season was spent on the Upper American River with Craig, No See Um's newest guide. The day was spent "prospecting" for rainbows. That is, we didn't see too many fish rising so we had to fish to likely spots where the fish would be located.
The day was cool and overcast but we didn't have to deal with any rain. We did take a couple of breaks to warm up with green tea and/or soup. Then, it was back into the river for more wading. We did well with each of us catching numerous rainbows over the entire day. We did have a double (i.e., we each had a rainbow on the line and landed) on the first morning of our first day of fishing so that was a great way to begin our trip. Ed's largest fish was 23 inches and Lindy's was 21 inches.
Click on the image to display a larger photo. Once displayed,
click on the BACK button (first button on the left of your browser)
to return to this page.
Wednesday, 27 July: After enjoying a delicious breakfast (thank you, Chef Gerald!), we had some time to relax as we were put on a weather hold due to fog. We finally were able to leave camp and head south at about 10:00AM. Today's destination – a first for us – was Contact Creek. Interestingly, this is a seasonal river in which only a few grayling can normally be found. However, during a few weeks of the season, the salmon come to this river to spawn and then there is an abundance of fish – salmon, char, rainbow and grayling.
Once we were in the air and en route to Contact, we encountered more fog. So, John made the decision to set down on a small lake for a 15 minute break to wait out the weather. During the break, we all enjoyed a cup of Gerald's homemade soup. Then, we once again took to the air and this time we were able to land at a small lake above Contact Creek. That's when the fun began.
We split into two groups – John guiding Carla and Larry, our fellow anglers, while we went to the river with Parker. Also accompanying John was Gene Hering, a videographer, who is compiling footage to do a promotional piece for No See Um (more information regarding Gene is available at www.flyfishtv.com ).
When Parker got us to our spot to drop down into the river, there was a huge male Alaska brown bear (grizzly) fishing. We had to wait a few minutes until he moved on before we could head down. Once on the water, it was nonstop action. That is, virtually every cast we had a fish on. We had so many doubles, we lost track. We actually had a few triples – one of us would have a fish on, the other would catch another and before the second fish was released, whoever caught and released first already had another one on the line. A fishing wonderland! We caught arctic char, dolly varden, arctic grayling and rainbow. Wow!
At our final fishing spot, we were joined by Gene who filmed some of this fun action. Hey, that was fun too!
Click on the image to display a larger photo. Once displayed,
click on the BACK button (first button on the left of your browser)
to return to this page.
At the end of the day, we hiked out about a mile to a larger lake (John couldn't take off from the small lake with all of us on board). As Ed says, walking on the tundra is like walking on twinkies but obviously we all made it. We did have a small "mud walk" to reach the plane (typically most lake bottoms are pretty firm but this one definitely was not!). We arrived back at the lodge at 6:30PM after a full day of fishing.
Thursday, 28 July: Today our quest was salmon. We had a very short flight to the Alagnak River. Today Caleb (the "Salmon King of the Alagnak") was our guide and we were once again accompanied by Gene. After arriving at the river, Caleb got our boat ready and we headed to our first sand bar for wade fishing. That began the non-stop action on this river.
We caught so many chum salmon that we lost count. These salmon were just in from the ocean (some still with sea lice) and most were a bright silvery color. Pound-for-pound, these are some of the best fighting fish – both freshwater and saltwater. Highlights of the day included one huge salmon landed by Ed. It measured 32 inches and Caleb estimated it to be between 15-16 pounds. A real beauty! In addition to traditional fly fishing for these guys, we also did some surface fishing using a foam floating fly that you pull across the top of the water using small strips. We were able to see a huge wake approaching the dry fly before watching it be devoured by one of these fish. This too was a real treat.
Click on the image to display a larger photo. Once displayed,
click on the BACK button (first button on the left of your browser)
to return to this page.
The weather cooperated and while it was quite cool, we only had traces of rain and no insects. We did have to take numerous breaks due to the intensity of the fight with these salmon. Gene and/or Caleb occasionally took a rod to give us a rest too. Obviously, both of them also caught a fish almost every cast. After landing one of these fish (usually a 20 minute fight), your arm is really tired. But, what a thrill and the tiredness quickly goes away because there were so many fish we just had to get another cast out.
Here's to the Alagnak and Guide Caleb who put us on the right places to find these fish.
Friday, 29 July: After a 6:30 breakfast, we were on the plane and in the air at 7:30AM. Destination: Upper Morraine, one of our favorite places with one of our favorite guides, lodge owner John Holman. As we approached the river, we were able to count about 17 bears from the air fishing in the same area as our destination.
Once we landed, we began our trek to the river. Again, Gene was accompanying us, primarily to get some bear pictures and boy did he. Throughout the day, we fished among the bears with some six to ten bears in sight at any one time. A highlight of the bear experience was seeing a sow (female bear) with two tiny cubs.
The day was overcast so it made the sight casting pretty difficult (at least for us). However, John will still able to spot some beauties. Highlights of our day included Lindy landing a 25 inch rainbow and Ed landing a 25.5 inch rainbow! You don't enjoy that quality of fishing in many rivers! In addition to these huge trout, we caught many others in the 22-23 inch range and we missed as many as we landed.
Click on the image to display a larger photo. Once displayed,
click on the BACK button (first button on the left of your browser)
to return to this page.
The Morraine is one of our favorite rivers and we had a terrific day. We especially enjoyed being able to fish with John who is a great angler and a wonderful host!
Click on the image to display a larger photo. Once displayed,
click on the BACK button (first button on the left of your browser)
to return to this page.
Saturday, 30 July: Today was spent on the Copper River which is about a one hour plane ride from No See Um. The flight was beautiful and we all enjoyed watching the Alaskan scenery. We enjoyed a great day of fishing with Dave. Although Dave has been with the lodge for three seasons, this was our first time to enjoy fishing with him. It was a real treat!
The Copper River is an amazing fishery. It holds an incredible number of rainbows (and there also are a few char). Almost every cast resulted in a rainbow landed. We classified them as "dinks" (6-8 inches in length), normal or common size (14-16 inches) and the really nice ones (18 inches and greater).
After catching many, many of the "normal" guys and enjoying numerous doubles, we decided to purposely seek out only the larger guys. We did so under Dave's direction, using some small lead weights to get down to the river bottom. We even had a double with one 19" trout and one 21" trout; fantastic! We really enjoyed a full day of both fishing and catching!
Click on the image to display a larger photo. Once displayed,
click on the BACK button (first button on the left of your browser)
to return to this page.
Monday, 31 July: Our original plan for today was to fish Funnel Creek, which would have been another first for us. However, when we flew to the area, two other groups were already on the water. So, Chris (our pilot) opted to put the Beaver float plane down on "Pothole" (a pond which is as big as it sounds) and dropped us and Dave, who was once again our guide, to fish the Middle Morraine.
Today we had a bit longer hike to reach the water. This area of the river has quite a rocky bottom and the sides are very steep. So, we stayed above the river on the tundra walking a bear trail until we approached an area with fairly easy access. That being said, we still had to access the river by walking "criss-cross" down a steep slope before entering a stand of willows and at least reaching the Morraine.
The wading in this area is somewhat difficult due to the rocky bottom; that is, it's easy to slip and the current is very strong. So, anytime we changed to another area or did a river crossing, we all joined arms to make the move. Obviously, Dave could do any of these alone but there is definitely a safety factor in helping anglers make sure they don't do some "swimming" when the goal is fishing.
Ed had the "hot" hand, landing four fish before Lindy got her first. Included in these was a beautiful 26 inch rainbow – stunning! Unfortunately, after landing this fish and taping it, the fish broke the line and got away before we could get a picture. Oh well! Ed, also caught two huge grayling. Dave measured the largest and it was an amazing 21 inches. That is one huge grayling!
Lindy finally got into the action with a 24 inch rainbow. Yeah! Then she too caught one of the large grayling – about 19 inches.
We took a break for lunch and watched a couple of rafting boats pass while we relaxed and took a break from the swift waters. Then, it was back in action with each of us quickly catching a fish immediately after lunch.
Click on the image to display a larger photo. Once displayed,
click on the BACK button (first button on the left of your browser)
to return to this page.
Later, Lindy had a heart-thumping experience. She felt a fish, set the hook and away it went! The fish ran out all of her line and went into the backing in a matter of seconds. Then, poof – nothing! Dave surmised she had hooked one of those 30 inch plus rainbows who call the Morraine home. We never got a glimpse of the fish but it was nevertheless a thrill. Interestingly, near the same spot where Lindy hooked her giant, Ed had a similar experience. This time a huge fish bit and as Ed set the hook, the fish's head came out of the water and he shook violently and broke the line. Since we both hooked these fish in the same waters, we affectionately named them "Bubba" and "Bubbette". As the saying goes, we each "had our clocks cleaned" by a monster trout, the kind every angler dreams about. But…. Bubba and Bubbette, we'll be back next year.
We continued fishing until it was time to start our trek back to our pick-up point (i.e., Pothole). We crossed the river and then climbed up the hill to a trail. We hiked on it past our pick up point and then dropped back to the Morraine. We crossed back across the river and then we continued our fishing (this time working up the river) until we had to pack up to get ready for our 4:00PM pickup.
We returned back to Pothole and thanked Dave for another great day of fishing on one of our favorite rivers!
Although Chris dropped us off in the morning, John, who was flying other individuals out of different parts of the Morraine, saw us waiting and dropped in to pick us up. While these Beavers can take off with as many as 6 passengers plus the pilot on larger lakes and rivers, on many small lakes, it's not possible to take off with all passengers on board so anglers are flown to a larger lake in groups of two or three. These individuals then wait on the lakeside while the pilot collects the other individuals and then returns and everyone heads for the lodge. So, John shuttled us to Crosswinds Lake. Ed and Dave volunteered to stay there with Caleb while the three individuals Caleb guided joined Lindy and John in the plane. John then flew to another spot where we picked up Alan and Bonnie (who had been shuttled there) and our plane was off to the lodge. Ed arrived about an hour later after he and his gang were picked up by Chris.
After enjoying another delicious dinner, we all enjoyed a slide show featuring photographs that each angler submitted for sharing with the group. Not only were there some great fish pictures, but also lots of beautiful nature shots and, of course, shots of bears.
* * * * * * * * * * * * * * *
We once again enjoyed a great week of fishing at No See Um lodge and we'll be looking forward to doing so again in 2012!!
If you're interested in exploring our other adventures at No See Um lodge, just click on a link below to go to that year's trip

2 01 0 2 0 0 9 2 0 0 8 2 0 0 7 2 0 0 6 2 0 0 5 2 0 0 4