Nunavut's Coat of Arms


NOTE: "HOME" takes you to our initial home page; "UP" will return you
to the NORTH AMERICA site for more exploring.
HIGH ARCTIC LODGE
25 JULY – 31 JULY 2003
Nunavut, Canada….. Most people have no idea that this Northern Canadian territory exists. That is, most of us have heard of the provinces that border the U.S. (i.e., British Columbia, Alberta, Saskatchewan, Manitoba, etc.). However, you have to go many miles north of the US/Canadian border to reach the southern most boundary of Nunavut.

Nunavut was created April 1, 1999 when the Northwest Territories was split to set aside this land, and it is now under the management of some 20,000 native Inuits who live there and have done so for 5,000 years. Beginning at the 60th parallel, Nunavut extends to the 80th parallel (almost touching the northern tip of Greenland) with the Arctic Circle crossing the territory at the 67th parallel. Nunavut, which means "Our Land" in Inuktitut, the language of the Inuits, comprises 1/5th of Canada's 9.98 million square kilometers.

Our fishing adventure with High Arctic Lodge began at Cambridge Bay, Victoria Island, Nunavut, some 1,165 air miles from Edmonton, Alberta, our jump-off point in Canada. Here, owner Fred Hamilton met those of us arriving via a First Air airlines flight and subsequently shuttled us via two 6-passenger Cessna 206 float planes to the lodge's Base Camp at Merkeley Lake. We then spent the next 6 days having a blast fly fishing in a variety of waters – from the Base Camp; North Camp; and Hadley Bay Camp. We cast to and caught great Lake Trout and Silver Char. We also saw that incredible orange Arctic Char but didn't land one this trip (hey, next time, right?). In the process, we saw incredible scenery and wildlife that one sees only in zoos. Awesome! To read more details about our adventure, just click on one of the links for more information.

Fred and his wife, Dawn, are great hosts as were the various individuals manning the outpost camps (North and Hadley Bay). So, if you're up for not only great fishing but an incredible adventure north of the Arctic Circle, contact them and get ready for the "Land of the Midnight Sun." www.higharctic.com or 1-800-661-3880 We're looking forward to returning in 2004!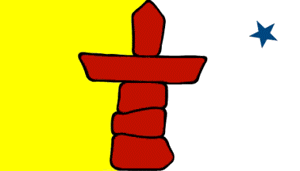 Nunavut's Flag